You don´t want to abstain from mobile Internet during your holiday in Spain?
To not having to renounce Facebook, Whatsapp and Google Maps during your well earned holiday time in Spain, no matter if on the Mainland, on one of the popular holiday islands like Mallorca, Ibiza or Menorca, or on the Canary Islands like Gran Canaria, Tenerife, Lanzarote, Fuerteventura, La Gomera or El Hierro, we offer you three very cheap mobile internet tariffs. You will be amazed by how easy it is!
Do you visit Spain frequently? Due to regular holidays or due to work?
If you frequently visit Spain and still want to be available all the time, then we offer you a rechargeable SIM-card. With us, the card doesn´t expire after six months after not using it, it expires after twelve months. So you´ll have enough time to recharge the SIM card via the Hits Mobile App, or in almost every supermarket in Spain.
You´re going on a "One-Time-Only" trip to Spain or you need a second card for your iPad, Android Tablet or your mobile Router?
If you´re oly in Spain for a unique trip, or if you´re planning a short Business Trip, then our PREPAID-TO-GO-Tariffs surf14 and surf28 are you´re perfect choices. Particularly for the use in Tablets, like iPad or Samsung Galaxy, or in a mobile Router, the PREPAID-TO-GO-Tariff is a good choice. Especially when you want to use the Internet with your family or friends, then our surf14 and surf18 SIM-cards make really good sense in a mobile Router. It is really easy to configure your own WLAN-Hotspot with them. You can get the provider unattached, mobile router from us, at your special inquiry.
You live in Spain and you are searching for an alternative to your Internet-landline?
With the compatible home-Tariffs, we offer you a cheap alternative to your Internetlandline. You can choose between 20GB, 40GB, 60GB and 160GB of Data Volume. The only requirement is a registered residence in Spain.
Bestseller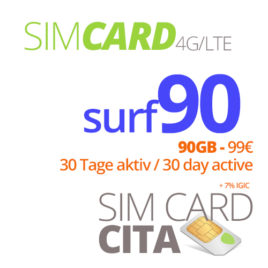 Booster
Surf90 mit 90GB – 30 Tage
Diese Prepaid-Daten-SIM Karte ist eine reine Einwegkarte mit 90GB Downloadvolumen im 3G+ Netz von Orange. Also einfach einlegen, und nach automatischer Anmeldung einfach die nächsten 30 Tage schnell im Internet surfen. Geeignet für alle internetfähigen Endgeräte wie Smartphone, Tablet oder … Continued
not rated
100,00

€
shipping extra
Select options